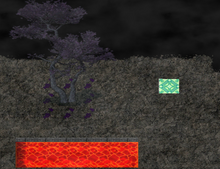 Token Death Island (abbrev. TDI) is a combat level 20 PVP and Mini-Game zone located in the Mini-Game Area down the ladder of the tower outside the eastern walls of Blena. The telepad allows the player to choose whether to spawn at the top or bottom of the map. The exit is located at the bottom of the map.
The purpose of TDI is to collect Grak Tokens from killing monsters or other players if they have them. Players will only drop their tokens, not their equipment, if they die. Grak Tokens can be exchanged for regular Tokens that can be used to buy unique items from Jay the Dwarf and Biko the Dwarf.
When players reach combat level 50, TDI monsters (listed below) will upgrade to stronger variants. Due to quest concerns such as Slayer tasks, some of the downgraded variants remain in this upgraded area.
Monsters
Image
Name
Level
HP
Normal/Upgraded

Grak Ghost
35

65

500

1300

Normal

Upgraded

Grak Walker
60

90

1000

2400

Both

Upgraded

Grak Element
85

86

110

2000

6000

4200

Both

Upgraded

Upgraded
Skilling
Woodcutting
Community content is available under
CC-BY-SA
unless otherwise noted.